New Books Available in the Fermilab Library

Library Highlights
Books by Edward Tufte are currently on display in the Fermilab Library. Tufte is an American statistician and professor emeritus of political science, statistics, and computer science at Yale University. He is noted for his writings on information design and as a pioneer in the field of data visualization. Tufte is best known for his trilogy of self-published books on analytical design: The Visual Display of Quantitative Information (1983, 2001), Envisioning Information (1990) and Visual Explanations (1997). Each offers practical advice on aspects of data display and provide historic and contemporary examples. Regarded as the primary authority on the presentation of information by designers, information architects, engineers, and scientists, Tufte's work has also generated a strong mainstream interest.
Featured New Books

Fluent Python: Clear, Concise, and Effective Programming
This hands-on guide teaches how to write effective, idiomatic Python code by leveraging its best and most-neglected features to make code shorter, faster, and more readable. With this book, programmers will learn how to become thoroughly proficient in Python 3. This book is available in print and can be checked out in the library.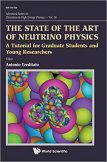 The State of the Art of Neutrino Physics
The aim of this book is to provide graduate students and young researchers a comprehensive tutorial in modern neutrino physics, with emphasis on the educational aspects. It provides an overview of the basics and of recent achievements in the field, from both experimental and theoretical points of view.
Access to Scientific Journals at Fermilab
The Fermilab Library is responsible for providing access to scientific journals and articles needed by researchers here. The most common means of access is by site license for online access to over 400 major journals such as The Physical Review set, Nature, Nuclear Instruments and Methods, and the Science Direct/Elsevier High Energy Physics and Astronomy Backfile, which includes articles up to 1995 in 20 prominent journals. For a complete list of available journals, see our Journal List.  For instructions on how to access our online journals from off site, click here.
---
Subscribe to the New and Suggested Books email from the library
here.
---